Course: An Awakened and Meaningful Life: Integrating Buddhist practices for challenging times
David Smith
September 20 - November 8, 2020
Join Dave Smith for this eight week course for practitioners aged 18-36, beginning September 20th and ending November 8th.
Description: Anyone who makes the important choice to commit their life's energy to the qualities of awareness, kindness and wisdom will surely face many obstacles along the way. As we continue to live in a culture that values consumption, individualism and status as the norm, we now, more than ever, are faced with the dilemma of making radical changes within ourselves and this world.
At the heart of the Buddhist tradition lies the concept of being fully "awake". That is, to understand the possibilities and limitations of our embodied and shared humanity. Being awake is not some mystical state and enlightened point of view, it is an active engagement with the world that supports wisdom and compassion. A willingness to face adversity and conflicts that challenge our values and our peace of mind. At the core of this endeavor is the practice of Mindfulness, which has gained wide-spread popularity across the global landscape. But is Mindfulness merely enough? What other qualities do we need to develop in order to live an Awakened and meaningful life?
In this course, we will explore these ideas through the traditional model of the Four Noble Truths as outlined in the Theravada Pali Canon discourse.
Course Includes:
8 weeks of online material accessed through an easy to navigate learning management system;
Video lectures, readings, guided audio meditations;
Opportunities to connect with other participants in the program;
Weekly group meetings with the course instructor on Zoom to discuss the material and practices (Sundays beginning September 20th at 12-1pm EST/11am-12pm CST/10-11am MST/9-10am PST);
Two 20-minute 1:1 sessions with course instructor.
Participants should be prepared to commit 4-6 hours per week to the course.
Why young adults? The American Psychological Association has reported that millennials – 16 to
36-year olds – are the most stressed out generation in history. Sometimes referred to as "the worry generation". This segment of the population has begun to turn to mindfulness in a big way to deal with the pressures of modern life. Dave Smith, a member of the Gen X Buddhist teachers sangha will be taking you through this process.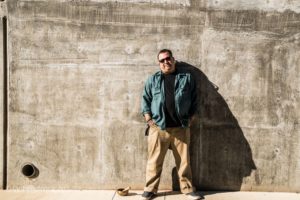 Dave Smith is an internationally recognized Buddhist meditation teacher, addiction treatment specialist, and published author. His background is rooted in the Insight Meditation tradition and he was empowered to teach through the Against the Stream Buddhist Meditation Society. He has extensive experience bringing meditative interventions into jails, prisons, youth detention centers and addiction treatment facilities. Dave teaches residential meditation retreats and classes, provides trainings and consulting in both secular and Buddhist contexts, and works with students through his meditation mentoring program. He recently founded the Secular Dharma Foundation and lives in Paonia, Colorado.
This program is being offered as a benefit to Southern Dharma Retreat Center in this time of drastically decreased revenue. Toward this end, three pricing options are offered: $325 (base rate), $250 (subsidized), $400 (supporter). Please choose the option that best fits your ability to give in this time.
A limited number of need-based scholarships are available. Please indicate your interest in a scholarship during the online registration process.
Teacher