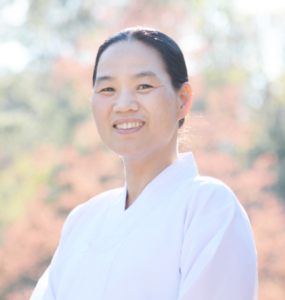 Rev. WonGong (affectionately known as Rev. Wow!) is a lifetime dedicated dharma teacher. A pioneering Won Buddhist priest, she has established temples in Chapel Hill and Raleigh, North Carolina. She is a guest lecturer at schools, colleges, and meditation centers, teaching Buddhist philosophy and meditation to people of all ages and backgrounds. 
Rev. Wow! leads workshops, retreats, youth dharma camps, and cultural enrichment programs. She integrates creative forms of meditation with body movement, vocal Qigong, breathing techniques, guided meditation, and laughter. She is active in the international interfaith community and is a leading Korean-to-English translator of dharma teachings, serving as a spiritual bridge between East and West. 
Rev. Wow! is a master of integrating Buddhist concepts in daily practice. She loves gardening and singing. In 2018, she released an album, Chants of Samadhi for Daily Practice. In 2020, she released her second album, Chants for Healing. 
Events with Rev. WonGong So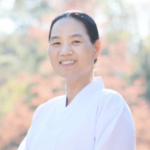 In Nature, Our True Nature
April 8 - 15, 2023
Come and experience truth—the truth of our own nature! Spring…