All in-person programs in Asheville listed below take place at Urban Dharma, 697C Haywood Road, Asheville NC 28806. Masks are required in indoor spaces.
---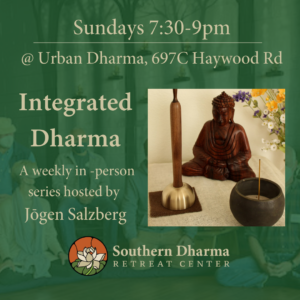 SUNDAYS AT 7:30PM
Integrated Dharma offers teaching and tools from a variety of Buddhist traditions, as well as psychological and embodiment practices, to support a full span freedom – relief from suffering, personal flourishing, and the means to translate that into a heart-centered response to the joys and challenges of our world.
These gatherings will begin with sangha building over tea, continue with a part guided, part silent meditation, and conclude with a talk and discussion on Buddhist practice. Hosted by Jogen Salzberg, with guest teaching from other local and traveling Southern Dharma teachers:
May 1: David Chernikoff
May 22nd: Mark Nunberg
August 14th: Lisa Ernst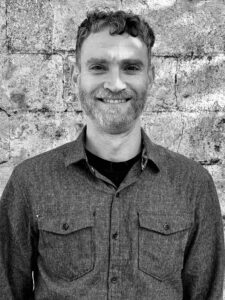 Jogen Salzberg, Sensei began practicing meditation in the 90's and spent 15 years in residential training at Great Vow Zen Monastery of Oregon. He is a fully authorized teacher in the Soto Zen lineage and has worked with teachers across Buddhist traditions. His teaching synthesizes those teachings and practices as well as drawing from his study and practice of Jungian psychology, Voice Dialogue, Paratheatre and more.
---
1ST AND 3RD MONDAYS OF THE MONTH AT 7:30PM
Live from Southern Dharma offers teachings, instructions, and shared practices from local and visiting Southern Dharma teachers. Hosted sessions can be joined in person at Urban Dharma, or they can be accessed via Zoom (with live captioning). Feel free to RSVP for a session below or just show up on site. See individual programs below for descriptions, dates, and times.
---
Live from Southern Dharma sessions and Special Events are listed below. Please visit each program page for more details and for registration information.
Sorry, no programs exist here.