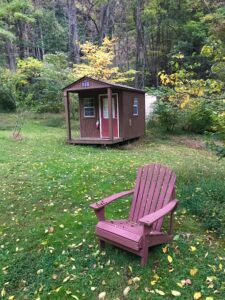 Update: We have added a second July long weekend solo retreat 7/22-7/25.
Southern Dharma will be offering a limited number of solo residential retreat opportunities in May, 2021 (5/10-5/23), and a long weekend in July, 2021 (7/8-7/11). A maximum of 12 solo retreatants may be invited to join us at any one time. If you are interested in spending time onsite at Southern Dharma in silent practice, read below and complete the interest/application form link at the bottom of this page.
Housing included, prepared meal plan is optional. Access to Meditation Hall, tent platforms, trails, as well as select Zoom sessions from our live at home retreats with Cheryl Wilfong and Mark Nunberg during the May weeks only. Scheduled group meditation periods daily.
All retreatants will be asked to abide by the Precepts and Noble Silence while they are in residence.
Solo retreatants are welcome to join daily group meditation sessions, either on the veranda of the Meditation Hall, or inside the Hall, masks optional. Please feel free to bring your own cushions, benches, zabutons, or other meditation and/or yoga props.
Applicants must have experience with regular, self-supported practice. Your practice as a solo retreatant will need to be entirely self-guided and we recommend that you have a counselor or teacher who is prepared to assist you in cases of need. The Southern Dharma staff and retreat teachers will not be in a position to provide any consultations of that nature, and if we feel at any point that you are a risk to yourself or anyone else on site, we will request that you return to your place of residence.
Daily schedule will include two hours of working meditation, primarily on outdoor groundskeeping tasks and food preparation.
Prepared meals will be vegan with vegetarian options, other dietary accommodations must be discussed prior to registration. Fully-equipped outdoor kitchen and indoor food storage areas will be made available to retreatants who do not enroll in the meal plan.
Solo retreatants will be housed in our single kutis in the meadow, with shared outdoor bathrooms and shower. Tents may also be used. July long weekends with expanded capacity will also make use of shared lodge accommodations in second floor double rooms and third floor dormitory.
Check-in from 4-6pm on Monday, May 10th, Monday, May 17th, or Thursday, July 8th only. Check-out before 1pm on Sundays.
Review our Covid-19 community agreement. Please note: We on staff are putting ourselves at an increased risk of exposure by inviting guests to our campus. We reserve the right to ask any guest to leave at any time if we observe that they are not upholding the agreement or otherwise endangering other members of our community. All guests are required to bring their own supply of appropriate masks and personal sanitation products.
Tiered fee based on your ability to give:
For each of the May weeks: $475/week (base), $600/week (supporter), $350/week (subsidized)
For the July long weekends: $300 (base rate), $400 (supporter rate), $200 (subsidized rate)
Meal plan available for additional $75/week or $45 per long weekend. Need-based scholarships and Hemera fellowships available, no one will be turned away or denied food for lack of funds.
If this opportunity sounds right for you, complete the interest/application form here.
Questions? Email registrar@southerndharma.org